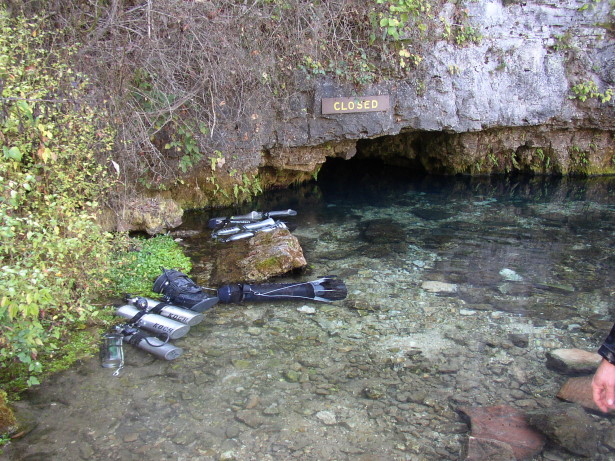 LOCATION: Along the Current River in Shannon County, MO.
SIZE: Ranked the 6th largest spring in the state with an average discharge of 105 million gallons of groundwater per day.
OWNERS: Owned by the National Park Service since 1967. However, this spring is closed to the public due to white nose syndrome in bats and for safety reasons.
DIVING HISTORY: This area was settled in 1855 by Thomas Welch whose family ran a gristmill for fifty years after the Civil War. The spring and 40 acres were sold in 1913 to Dr. Chrisian Diehl of Roxana, Ill., who spent the next 30 years alternately practicing medicine in IL in the winter, and building/promoting a sanitarium for asthma sufferers in the spring. It was common for people to mistake the cave air for having medicinal purposes. The ruins of the hospital are still standing against the bluff but are closed to the public.
The OCDA was given the opportunity to explore Welch Spring in 2007. Inside the gated entrance is an underground lake 10-18 ft deep, and there is living cave on the ceiling. There is dry passage which extends into the bluff from this lake area which has been mapped in the past. There is a rather large beaver living back in here which is responsible for the wood branches in the picture below. The spring then descends to 149 ft and gently ascends to the 100 ft area at the current end of the line. The rather poor visibility in this system is typical of Missouri springs and varies with weather. Exploration of this system will hopefully continue in the future.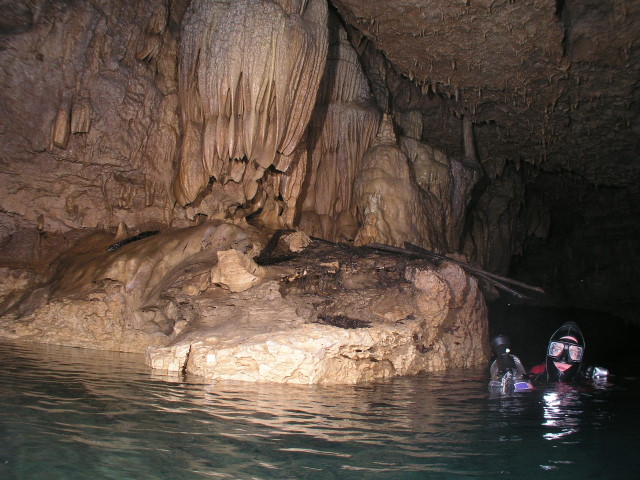 NOTES: Although the average discharge for Welch Spring is higher than Maramec, this average is based on a much smaller sampling size and is therefore lower in rank according to the MDNR. The spring discharge causes the Current River to double in size at this location.